Ahoy again! Another exciting update is ready to check out. Backers can download it for Windows, Mac, Linux, and Android. iOS version will be in email (sorry to people who signed up late for TestFlight, I'm out of slots.)
Tonight at 8pm MST I'll be hosting the beta29 Tournament. Try to join in!
Following are the highlights from over 100 changes in the game, overhauling just about everything.
Zero Lag
I decided to do some serious re-working on how the client and server interact, and I've updated the game to simulate zero lag when you play. It makes the game much more responsive!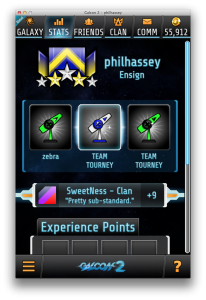 Good Game
I'm excited to introduce this new feature – whenever a player makes an in-app-purchase, they will be given a cache of bonus coins. After a good match, tap the "Good Game" button to award some of these coins to the players.
Help section
I've added in documentation for all the nitty gritty of Galcon 2 right into the game. Find out how betting works and what chat commands are available.
Trophy Vault
Get ready to start building the worlds largest trophy cabinet! The trophy vault allows for multiple levels, so there's no limit to how many trophies you can showcase.
Drop-In feature
In most game times, players can now drop-in mid-game and join the action. Once a server is full, or in a tournament, or with active bets, drop-ins are no longer allowed.
Stats Rework
I've consolidated "Progress" and "Experience" to a single "XP" stat to earn stars. The flags don't decay and are used for match-making. Lastly the wings never decay.
There are dozens and dozens of more things. Here's a few more bullet points:
– Tournaments – multiple admins, multiple servers, cross-server approvals
– Chat bug fixes – Multiple tab completion, iOS fixes ".commands"
– Lobby improvements – UI, icons, smarter timer, away/play spam lock
– Store – 30 day and Forever purchases. Sectors now free.
– iOS – fixed crash on resume, fixed some orientation bugs
Thanks for all the feedback, it's been a huge help in figuring out what needs to get done to Galcon 2 to ready it for launch! I'm hoping to get this into open beta very soon now!
As always, please leave some feedback on the forums!
Thanks!
-Phil
P.S. I've reset the stats, inventory, coins again. I've given coins to everyone who has an account. These are not the coins you purchased yet.