The Man
On Feb. 1st, I met Ron Paul at the Denver rally. HE SIGNED MY BUSINESS CARD, SHOOK MY HAND, GAVE ME A MAN-HUG AND SAID, "TOGETHER WE CAN MAKE THIS NATION GREAT!" GO RON PAUL!!!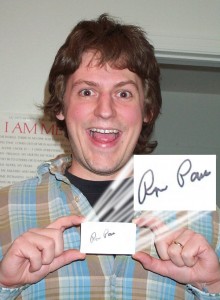 The Mission
So the mission was clear, I must join the Republican party, become a state delegate, and even try to become a national delegate! From what I could tell, Ron Paul's message inspired around 500 twenty-somethings to get involved with the Colorado GOP and give the system a try.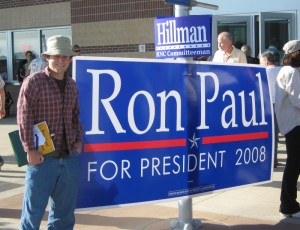 The Meeting
So a few months later, off I headed to the Colorado GOP convention! It was held in the Broomfield Event Center. Somewhere around 4000 people were present. It was very exciting! By being at the convention I was representing around 1000 Pueblo county Republicans!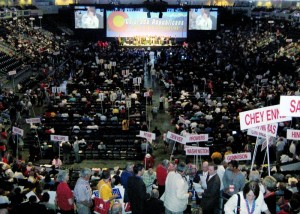 The Malignment
Unfortunately not everyone wanted "us" there! This rather exciting note was placed on every seat at the district convention. I made the blacklist!!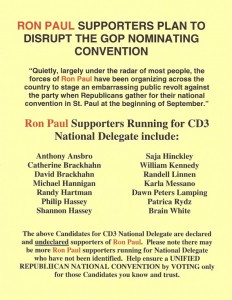 Although overall the Colorado GOP tried to ignore the fresh blood brought in by Ron Paul, several people told me they were really glad to see some new faces at the convention and encouraged me: "Don't give up! We need some life in this party!"
The Message
At the state convention, I gave my glorious 15 second nomination speech, greeted with thunderous applause! "My name is Phil Hassey. We need to send a message to the national convention and McCain that we want them to get back to their conservative roots! Vote the Ron Paul slate! Yeah!"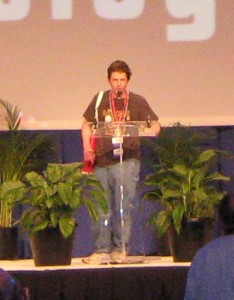 The Moral
I learned quite a bit about the Republican party through this experience. I've got a lot to think about! Although (as far as I know) the CO Ron Paul supporters did not manage to get any of the seats in the national convention, I think Ron Paul's mission in Denver was a success. He motivated a disillusioned generation to get involved in the party and learn how it works. If the CO GOP has a future, it's going to be because Dr. Paul planted the seed.