Hey,
So, I'm finally announcing Galcon Fusion to the world.  Fusion is a port of iPhone Galcon + Galcon Labs to the desktop.  This time with hi-def graphics and a full interactive soundtrack.  It's going to be coming to Steam and direct on my website on Feb. 11.  Users who supported me when I was first starting (as in, you bought desktop Galcon), your license is compatible with Galcon Fusion.  Thanks!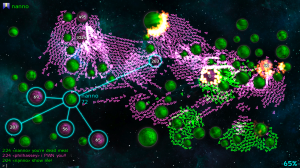 There are a few technical things that were challenging, dealing with endiannes for my network code, supporting fullscreen vs widescreen resolutions, and supporting a wide range of resolutions (from 800×600 all the way up to 1920×1080.)  To make it short, here are a few conclusions: best to support endiannes from the start, fullscreen vs widescreen is a pain, and baking lots of image data into your binary is a pain because it requires a ton of recompilation.  Oh, and installing VC++2008 is waaaay easier than installing mingw32, but keeping code working on both takes more effort.
I think my biggest conclusion comes along with this announcement, is that doing "secret dev" work isn't really that sensible.  If you look at that last paragraph, there are a ton of issues I could have documented in my blog that I didn't because I was all being secretive.  And hey, since I was so mum on this, nobody has heard about it until today.  I guess there might be some benefits to this (??) but I can't think of what they are.  I think blogging about my progress is a good way for me to be able to see what I'm doing and not get lost in the haze myself.  My recent article on VC++2008 is a great example of something I'm going to get quite a bit of value out of just for my own reference.
One big different thing I'm doing with this project is my wife Nan is doing the PR for it.  She's contacting all the reviewers, the general press, the newsletters, the announcement blog, twitter, and everything.  I'm trying to take a more dev-only role in the announcement.  This is nice, because I'm not very good on PR.  I try .. but I really don't do it as well as I want to, largely because on a launch of a product I've always got about 50 technical things I'm trying to do along with the PR!
-Phil