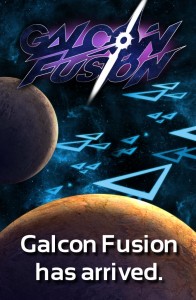 "Yay, it's finally here! Check out Galcon Fusion today! We've got a free demo and it works on Windows, Mac OS X, Linux, and Steam! It features some crazy nice hi-res graphics and soundtrack. And epic multi-player battles like you've never seen 'em before! Have fun!" <– marketing blurb 😉
Okay, for some dev thoughts. Man, it was a long week! Adding the "demo" feature to the build was a ton of work. And then doing all that other 'stuff' that sort of comes up. I think the one serious lesson I've learned in this whole process is that beta-testers are awesome.
Really awesome. I had about 50 people who I passed out 10 builds of the game to over the past 3 months. Some of these people put in several dozen hours of play time. All this was a huge help for me, as this was my first desktop '3D' game, so I had a lot of learning to do in terms of graphics capabilities. As in, I was able to get the game to run on my computer which is a pretty nice MacBook Pro .. but not everyone else's.
The beta tester feedback was huge, I was able to get the game running on old PPC macs, various linux netbooks, and who knows what else .. as long as it had a somewhat reasonable 3D card. I changed the memory requirement for graphics from about 200 MB down to < 64MB. Without any noticeable reduction in graphics quality even in HD video modes. In fact, that reduction changed the loading time on my computer from 5-8 seconds down to about 1 second 🙂 Anyway, I think I'm going to take a nap. It's been a long week, and I really appreciate everyone who helped me get this game put together. Give it a whirl, and thank the beta testers!