Earlier this year I realized I was a little bit overweight. Here's a pic from 2002 when I was at the high end of overweight. I never want to look like this again: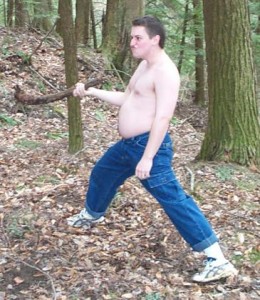 So with that in mind, I always am working to fend off the weight gain. A year and some ago, I put myself on a bit of a diet / hiking regime. This worked pretty well until I got really busy with work again and I gained back 10 lbs in a few months. Seeing how I was about to dive into a big project and I was already overweight, I knew I had to do something.
I decided to outsource "thinking about fitness" to BeachBody. I realized one of the problems was, with my focus so directed on my work, I didn't have any mental strength left to actually make myself get in shape. BeachBody has been doing the home workout video thing for ages, and I have a few friends who have used their products before, so that played a role in my deciding to get into it.
Another big thing was they had just come out with a new series called "Focus T25" which really appealed to me. I had checked out a few of their workouts before, and they often had workouts that varied between 15 minutes and over an hour, so you never knew how much time it was going to take every day. Not cool. T25 is ALWAYS 25 minutes.
BeachBody is really smart with how it gets you to get in shape. So let me break down a few of the things it does, gamification-wise.
– They encourage you to be in an group with a few other people. This helps add a bit of social pressure to the experience and makes you feel less alone. Because, you are alone when you do workouts in your living room. Encouragement is done via their website, and sales. You actually get an extra free DVD if you buy the workout through a "coach" (reseller.) The coach is supposed to get you into a group and encourage you. This worked pretty well. It happened all on Facebook, so that makes sense.
– They include a chart for you to check off daily if you've done your workout. This is nice, very "daily challenge oriented."
– They include a diet plan, but basically they say "1600 cal per day" … I ended up just working out my own meal plan, because most of theirs was too complicated. But the inclusion of the meal plan definitely drives home the importance of keeping with some sort of diet if you want results.
– The characters they chose for the videos (Shaun T, and 4 others) seem to be good picks for bringing the pressure right into your living room. I have a projector set up, so when I do my workouts it's pretty much like being in a gym with them.
– Every Saturday they have you record your weight. This was great, because it avoids the day-to-day roller coaster of weight fluctuation and gets you looking at the long-term progress. So you don't get discouraged by any single-day set backs.
– The final challenge is getting through the 10 week program and submitting before and after pics and before and after stats. You get a T-shirt if you do this. Definitely achievement unlocked type stuff here.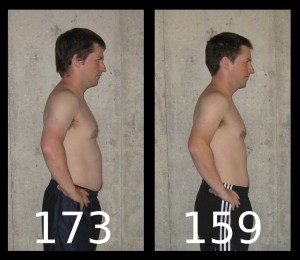 So my results were this:
– It took me about 16 weeks to get through the program, I had lots of travel and things going on, so I wasn't able to just power through it in 10 weeks.
– I dropped 14 lbs over the course of the program.
– I found the whole thing worked well, I just had to track my calorie intake, do my workouts, and I made sure to go outside and hike as often as possible. I probably averaged over 10 miles a week.
– I am no longer overweight.
I've been crazy busy the past 5 months but having outsourced the thinking part of getting in shape really worked for me. I'm currently working through the program again to shave off a few more pounds. Here's the way I look at it. I watch probably 2.5 hours of movie/TV every night. So ~30 minutes a day for 5 days a week is like 2.5 hours. So doing this routine is equal time-wise to ONE night of mindless entertainment. Hardly a heavy price to pay for fitness.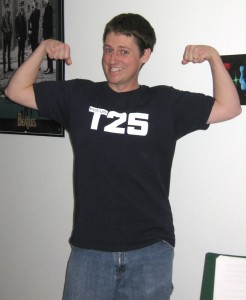 While in some ways, I outsourced my fitness planning to BeachBody, I also learned the key lesson they teach: if you want to get in shape you have to do it yourself.
-Phil