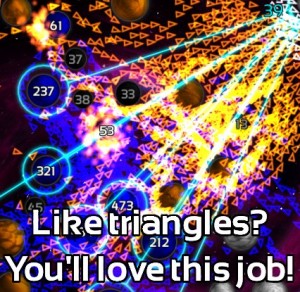 I'm looking for someone who wants to do maintenance on my Galcon games for the iPhone. There are a ton of great features that really need to be added to the game, but I just don't have time to do them all myself!
Galcon has large fanatical on-line multiplayer base who would absolutely love you if you were the one to help bring the features to the game that they are begging for!
While working together we would meet at least once a week to make plans and we would work towards being on a rather frequent app update schedule. The skills I'm looking for are:
– Proficient in C / C++ code and OpenGL.
– Strong experience with ObjectiveC / iOS.
– Knowing how to work with In App Purchases, Game Center, and iOS 4.x features a plus.
– You must own a Mac.
– You must own an iPhone / iPod touch. An iPad is a plus.
– Roughly 10-20 hours/week to start, this is flexible.
– Python or PHP experience is also a plus.
– Location: Anywhere! We'll stay in contact virtually.
Contact me if you are interested, and tell me why you're the best for the job! Payment would be hourly based on experience. This job has the potential to grow into a full-time position.
Thanks!
-Phil