It took a bit of messing with provisioning profiles, but I got it to deploy to the iPad, eventually.
I also add to add setup for the depth buffer into ES1Renderer.mm .. This is not included for whatever reason.
Then I got to do some iPad specific tweaks – since the game was first for the desktop, some of the code is specific to the mouse interface. I've wrapped some #ifdefs around those things to check for BUILD_DESKTOP or BUILD_TOUCH so I can have some code that checks for certain mouse buttons and some code that doesn't.
There's a pretty good list of things I need to do however:
– Get music and sound effects working
– Get the mini-level preview screens working better.
– Do some smarter backface culling
– Avoid overdraw as much as possible
– Smarter touch interface
But in general, the game seems to work alright 🙂
So by changing my rendering to use GL_ONE (additive) blending, I can easily see where I have overdraw happening in my scene.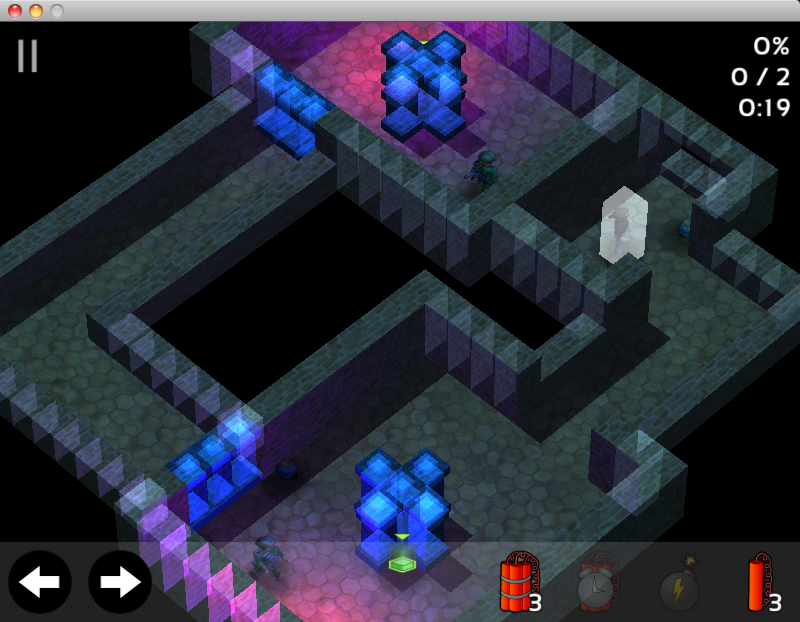 That shot has GL based backface culling enabled, but I'm going to disable it so I can do my culling on the software size so I don't use so much memory in my buffers. Not sure if that will give me a performance gain or not, but it's something to try out.
To get the music working, I converted my .wav file to an .aac file using this command on OS X:
afconvert music1.wav -f adts
That seemed to produce an .aac file.
From investigating speed issues on the rendering, it seems my use of GL_LIGHTs is slowing down things considerably. If I disable all my lights it renders much faster. I may have to investigate some other options here.
Anyway, it's nice getting this game started on the iPad. I think it'll come together pretty quickly with another day of tweaks.
-Phil