I fixed 14 bugs today. Here's my "resolved items" list. It includes the 3 things I did last week (resolution support, WASD support.)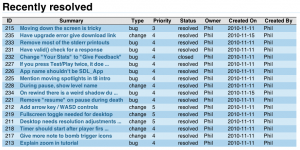 I'm quite happy with all the feedback I got from the beta-users. Tomorrow I hope to post a build.
-Phil
Update: as an added note – the primary features added are keyboard controls, full screen / resolution options, and better mouse controls.