Thursday, October 14th, 2010
So, today, I'm working on getting the game fully working. I've added a win condition and the resulting explosions!
I'm ending up doing a little bit of work on my OpenGL GUI today, I've got to get it working somewhat so I can manage level meta-data (title, intro text, music, etc.) I could just skip that for now and do something else, but I think having the level editor working from the start is important as that's going to be a key feature of the game.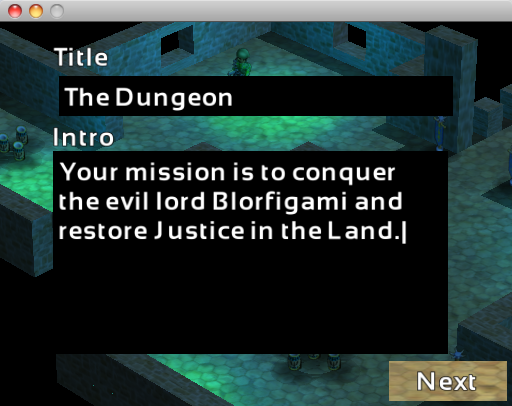 I'm keeping everything really big-sized so that if I decide to do a iPhone version of this game, the menus will work without any notable alteration. I'm glad that I've got my old OpenGL GUI code from Galcon, etc, because writing GUI code is always quite a bit of work! I'm doing a bit of updating of this code as I go to make it easier to work with, but no major changes.
Now I'm going to expand the game to be able to save / play multiple levels instead of just one. Now, in a more, tomorrow kind of way, that is.
-Phil