Saturday, March 8th, 2014
Ahoy there! The beta25 is here for Windows, Mac, Linux. (Sorry Android, iOS, not this week!)
Since the last update, which was a total debacle – all the servers crashed and nobody could play – I've done a ton of work. I've added 100% coverage tests to the game servers so things should be a bit more stable. And I've added a BUNCH of things!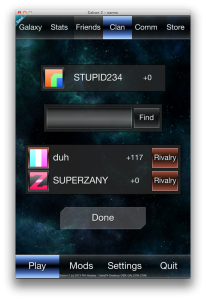 – Friends (YES THIS GIVES US THE #1 DEMANDED /mute user FEATURE!!)
– Clans
– Clan Members
– Clan Rivalries
– Clan Emblems
– New Galaxy Map
– Improved Betting
– Team Games
– Communication and Messaging (you can PM across servers, and to off-line players!)
– Tournaments (not yet completed)
Okay, so that's a huge update! I'm going to be online for the next hour to play the game with anyone who can jump on! Be sure to tell me what you think in the forums! Also, for this beta, I'm resetting everyone's inventory and giving everyone 10k coins to try things out. Keep in mind this is still "the BETA" so at some point in the future I'm going to be resetting everything back to the start.
Cheers!
-Phil
P.S. If you are a graphic designer / artist interested in helping me finish up Galcon 2, please contact me at my first name at galcon dot com with a link to your portfolio and your availability over the next few months.