Tuesday, November 11th, 2008
Hey, so I just put up a new game on my website called "The Maze of MADNESS."  Check it out.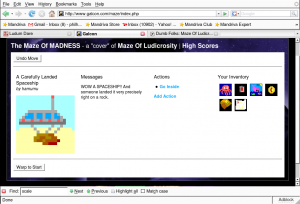 The interesting thing about it is that I didn't create any of the game.  I just created a web based interface for people to create this adventure game on.  I made it for a 48 hour contest this past weekend, and the other contest people have already created 45 rooms, 40 new items, and 152 actions.
It should be interesting to see how long the game lasts before it caves under the weight of itself.  I'm quite interested in trying out user-content games.  So if this even marginally works out, there is a good chance I'll be doing more in the future.
On another tech note, I used AS3 for the pixel art editor in the game.  I decided on this instead of haxe, because it seemed there was a lot more random bits of information on the internet about AS3.  I managed to get it to work without using a .mxml file.  The tutorial I followed was this.  I also got lots of random snippets from the internet.
-Phil